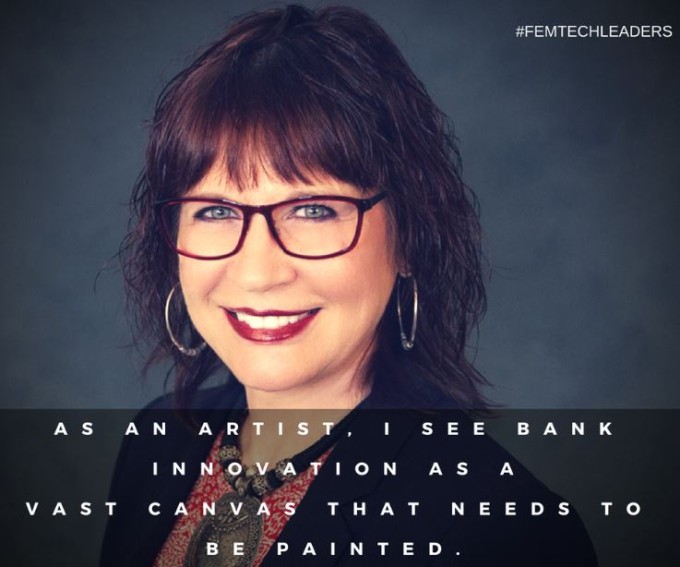 Startup Accelerator Program Manager at Wells Fargo
Minneapolis-St. Paul, Minnesota
LinkedIn Profile  |  Wells Fargo Accelerator
You grew up in a family of entrepreneurs. How did this shape you in your career?
I seem to have inherited the drive, intelligence, risk taking, as wells as a 'what could be' take on nearly everything. I grew up as one of four
children. I was the first born of the next generation in my family and a woman. My life, among my entrepreneurial family, was full of interesting experiences, such as watching my Dad and his brothers build an airplane from scratch and fly it. My brother, sisters and I had similar talents, and we were a good combination for the family business – a milk processing and distribution center. But, my thirst to learn and desire for adventure found me announcing one day I was leaving the family business to go it on my own. This experience, as the first independent career woman in my family, strengthened my resolve to go out and be as successful as I could, whatever I decided to do. All of these traits have played a part throughout my career at Wells Fargo, which I have been part of for 26 years.
How did you come to work in the financial services space?
I worked for a time in HR at other companies and also had some experience with technology, so when a  position for a business systems analyst opened up at Wells Fargo that required a background in both, I applied. This is how I first entered financial services. Every day when I come to work, I value the integrity of Wells Fargo's leadership. Also, Wells Fargo has grown a lot since I joined 26 years ago, and there have been many opportunities for career growth. These things are very important to me.
"I have an ability to see patterns." What did you mean by this? (you mentioned you'd be drawn to Big-Data in today's world).
I seem to have the ability to find relationships between things that at first glance do not seem to be related. This is a useful skill in my current job for the past two years as a business leader for the Wells Fargo Startup Accelerator. In this role, one must look across our many different business lines and try to match the needs of a business with the capabilities of a startup that comes through the program. Big Data is a business priority at Wells Fargo, and I have opportunities to engage in an area I have always had an interest. I'm drawn to figuring out what combination of tools and algorithms will provide keen insights and help transform our customers' experiences. Also, I'm intrigued to find out how all the structured and unstructured data can be combed thru to provide a valuable insight. These are fascinating challenges to me.
You described yourself as an artist by nature. How does this affect your approach to your work?
Seeing patterns, having been an entertainer and a right-brained creative thinker, enhances my ability to appreciate the dynamics between different groups of people, particularly when it comes to technology and business people. The Innovation Group at Wells Fargo, which I have been part of since it formed more than a year ago, is a catalyst for transformational change across the company. I actively listen to and assess a group's needs, so I can find a bridge and help them come to a positive outcome by working with others across the company. Different groups that provide products and services to our customers are coming together in new ways to come up with transformative delivery mechanisms or new innovative products to meet and exceed our customers' expectations. As an artist, I see this as a vast new canvas that needs to be painted.
How important is the concept of personal branding to you?
Extremely important. Like an established company or a startup, the brand communicates who you are, what you stand for, and what you do. When you have something unique to offer it is important to describe its value in a way that your organization or customers can understand. An approach can be to casually mention in conversations with peers and managers what you have done, what you are passionate about, and what you have recently delivered. Over time, you can establish your brand in the organization.
"I love a job that doesn't have a description yet." How does this statement fit with an organization such as Wells Fargo?
In an era of transformational change, particularly in digital banking, Wells Fargo is forging new ground. Many new job opportunities in emerging areas continue to arise, some requiring skills beyond traditional financial services.
You are our first belly dancer and break dancer (that I know of) in this interview series. How did these hobbies come about for you?
I actually made a living as a belly dancer in my early years. Luckily, I did it when I was young and money was no object. I have always had a deep passion for dance for as long as I can remember. I took ballet and modern dance, but when I tried belly dancing, I found a home. The mark of a good belly dancer is for her to have command of technique and the ability to improvise. Breakdancing, which I am studying now, is the same. You learn the fundamentals but are expected to be who you are and craft your style. The improvisation of art has been a very gratifying complement to my professional career, such as during situations that require me to provide a real-time assessment of dynamics and a split-second decision on how to process and achieve a good outcome.
Who(m) do you believe has had the most influence with respect to your own career?
There have been many different people at different times – both men and women, but the ones who stand out in my mind are the ones who told me to be true to who I am and take the downturns with dignity, grace, and perseverance, and the upturns with humility. As women, we have a tendency to judge ourselves too harshly, so it was immensely important to hear from mentors to be realistic about assessing myself, and give myself credit for my achievements.
Who do you consider to be strong women leaders in the FinTech space?
Interestingly enough, I think it is all the young women across the financial services spectrum that are just starting their careers. They do not seem to be as psychologically hindered by barriers as I think I was when I started out. And, when they encounter barriers, they challenge them. They inspire me. They have the opportunity to open things up for women that will benefit us all.
What do you see as the 3 leading future trends for FinTech?
I would say: 1 )more partnerships between startups and established banks; 2) finding ways to enable banks to increase speed to market even with the existence of legacy systems; and 3) finding the sweet spot and the right combination of technologies to meet the needs of diverse customer segments.