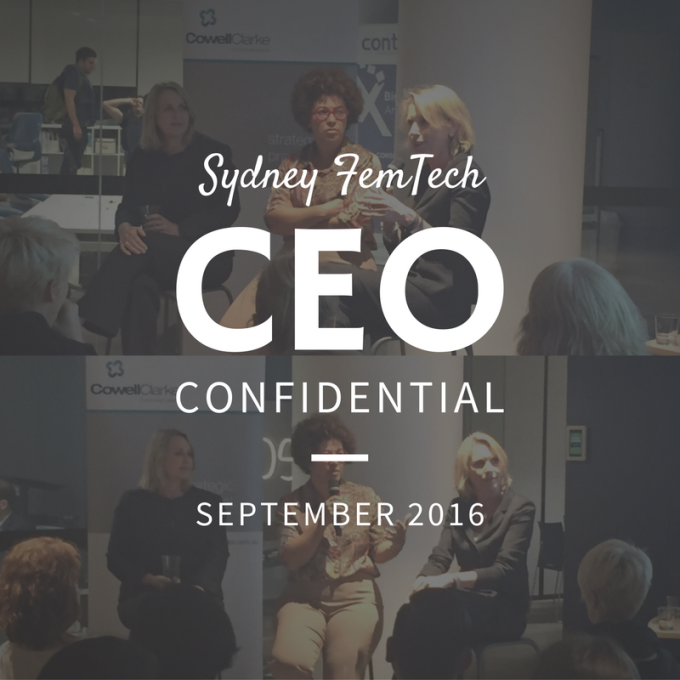 By Michelle Moffatt and Amy Ciolek
Picture this… You are at a work function or out at a dinner party with friends, and someone asks you, 'what do you do'?
Do you:
A)   Mumble something hardly audible because you feel a little awkies because in reality you are the big boss running the show
B)   Add words like; 'just', 'only', 'small' or 'little' to describe your empire that is minting it
C)   Proclaim proudly and unapologetically from the roof tops that you are in charge
What our conversation found, was that generally blokes have no qualms about confidently telling you exactly what their role title is, while on the whole women we seem to play it down.
Mmmm… what to do? Enter our fabulous female cohort of CEO's; Jodie Baker prior CEO of fintech Morgij Analytics backed up by an accomplished big banking career, Kate Mills ex editor of the BRW and CEO of Professional Mums, and 'CEO whisper' Tracy Noon, executive coach and CEO of Twelve Ten Consulting.
From their experience we just need to freaking OWN IT! Yes that's right, no shame, no guilt, no embarrassment, just say it like it is. However, it is normal to feel this way, and this is known as the 'Imposter Syndrome'. Imposter Syndrome is the fear of being exposed as a fraud. Women like Sheryl Sandberg and Oprah Winfrey have publically admitted to feeling like imposters even though they are super successful. And…surprise surprise men feel it too! One of our male guests openly shared that he experiences this, and that he thinks men just hide it a little bit better than women.
So here are the reasons why you need to own it:
1.      You have earned it, and deserve it, give yourself permission to flourish in it
2.      You have been appointed to that role because others believe you have what it takes, believe in yourself
3.      If you are self-appointed and the self-doubt creeps in smother it in your entrepreneurial essence; your initiative, your vision and your courage are what it takes to make your mark on the world
4.      People attached value to a title, show the world your value, you are worth it
5.      People know exactly where they stand, this gives them the information and certainty that they need
How do you own it? Owning it means that you next time someone asks you what you do you – say your full title, with confidence ,with no omissions and no diminutive adjectives, and you keep on trying it out until it becomes totally natural to you. I don't prescribe to 'fake until you make it' but rather 'giving it a go until you flow' naturally and authentically. It means practicing time after time until it feels comfortable, and when it becomes no big deal, you know you have owned it like a boss/goddess. 
So now you have owned it, what does it really take to be a CEO?
Being a CEO is a lonely job. All the weight of the company falls squarely onto your shoulders. Relationships change too, and your leadership team may not necessarily tell you the truth, instead, they may tell you what you want to hear. It's a delicate dance between vulnerability and putting on a brave face, requiring you to choose the appropriate audience and moment before wearing your heart on your sleeve. 
Here are some top tips from our CEO's to fin tech founders, aspiring and current CEO's:
1.    Establish a good relationship with the chair early
2.    Learn how to hire the skills you need
3.    Get an executive coach to help you on your journey
4.    Frame your conversations
5.    Be confident
6.    Have some fun with your team and employees 
Regardless of your title on your business card, focus on how you can inspire and lead others to be successful in their roles, achieve their goals and dreams. We all have our challenges and struggles in life, not matter how senior or 'with it' it appears. As women we need to be patient and kind to ourselves, and each other, strive to make the working environment a better place by lifting each other up and providing unwavering support.
Thanks to Sharon Lu at the Tyro Fintech Hub and Catherine Evans at Cowell Clarke for your continued support.
Editor's note: Michelle and Amy are lynchpins of the Sydney Femtech chapter, and many thanks to them for continuing to support and grow the community!