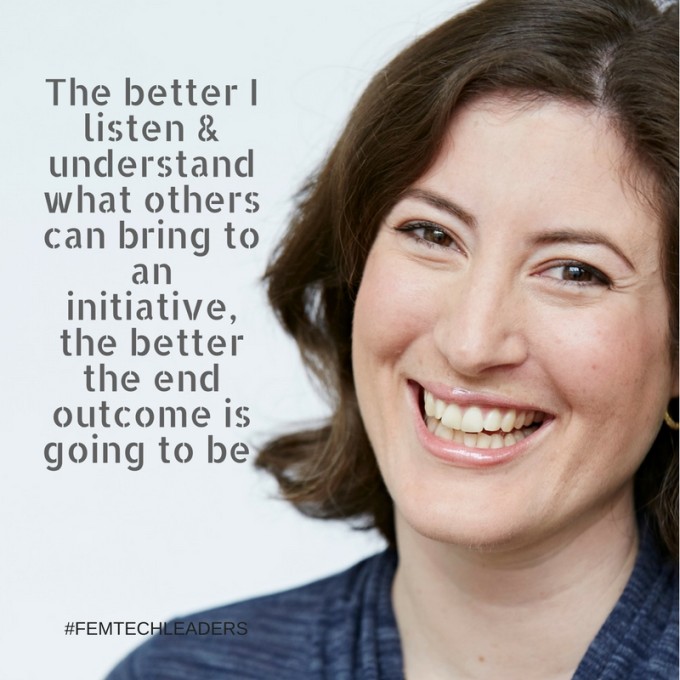 Chief Marketing Officer at Capital One, UK
London, England
@AmyLenander  | LinkedIn Profile
You're Chief Marketing Officer at Capital One UK, but you started out with the bank in McLean, Virginia. How did you get
tapped to join the UK team?
I've worked at Capital One my whole career, and one of the main reasons I've stayed is that I continue to get to learn new things and take on different challenges. My experience in our US business ranged from installment loan marketing and product development to credit card underwriting to customer experience and loyalty programmes for existing customers. When the role as CMO in the UK opened up, our Head of International at Capital One with whom I'd previously worked asked if I would come take on that role. I was excited by the prospect of working in the UK and taking on the challenge of a much broader role, so after a few days of asking myself if I was really ready to pick up and move my life across the ocean, I jumped at the chance.
Your path to Marketing came via Loan Underwriting, so you have a unique perspective on how two divisions that normally don't collaborate actually work well together. Tell us about that.
At many lending companies, marketers are solely focused on generating business and underwriters are solely focused on managing credit losses. At Capital One we believe we can get to better outcomes by making integrated decisions across the two areas. That means that within my marketing department, we're accountable for growth and customer experience, but also for managing credit losses and the overall profitability of the business. We regularly have analysts (like me!) get experience in both underwriting and marketing, which means that they are more likely to solve for the overall needs of the business and our customers rather than just optimize one area. I'm convinced that approach leads to better outcomes for the business and career opportunities that are more fun.
How does your background being an Analyst influence your approach to guiding Marketing efforts in a different market (U.S. vs. U.K)?
In both the US and the UK we're fortunate to have lots of data and marketing infrastructure to approach problem solving. I use analysis, but also customer-back design thinking to determine the right products and services to help our customers succeed with credit. Over time, I've learned that analysis alone often isn't sufficient to develop great new products, so I've added other tools to my toolkit which are particularly helpful when working in a new customer segment.
You were in charge of rolling out a different sort of marketing campaign that actually began with empowering Call Center employees. Tell us more about "Surprise & Delight".
"Surprising and Delight" is a way of thinking differently about the way in which we empower our own employees. We realize how important it is that we treat our customers as individuals and that our employees have the ability to do all they can to help that customer. Our surprise and delight programme aimed to solve these two challenges by giving our employees the ability to take action if they saw a way to do something for a customer which was unexpected but would make their day special or follow up on a personal connection they made. Surprise and Delight is just one element in a range of initiatives across the business to help ensure that we're giving our customers a fabulous experience. Another way we take care of our customers is to use all of the digital channels available to us to nudge them to make financial choices that help them to use credit wisely and stay on track.
What surprised you most about "Surprise & Delight"?
I was expecting this programme to have a meaningful impact on our customers, but what surprised me was how our internal employees were engaged by taking part and inspired by the stories of connecting with customers. We apply this approach internally, too, surprising our team members with recognition that is especially tailored to them.
You've been in the UK now for about two years. What was the most challenging aspect of tackling marketing in a different culture (separated by an ocean and a language)?
Understanding our customers and their journeys, dreams, challenges is so important to designing the right products and marketing. Since I didn't grow up in the UK, I didn't know things that are important to understanding the financial ecosystem like how students pay for university, standard financing terms for a car, or the dynamics of the public assistance programmes. I had to learn that along with people's attitudes to money and credit. Customer research in this area is fascinating. Although there are lots of universal themes around people and their money, getting inside the head of UK customers is a continuing, fascinating journey for me.
The language is more different than I thought, which sometimes means that if I'm reading some copy and would normally question whether it made sense, now I'm much more likely to ask whomever the closest native Brit is around me to let me know if what I'm looking at is perfectly acceptably in British English. Two new-to-me words that have entered my vocabulary are "lurgy" and "chuffed," just rarely in the same sentence! Living abroad has made me much more comfortable asking potentially stupid questions in all areas of my life.
How did you get settled into a tribe/community once you moved to the UK?
One of my favourite things is musical theatre – whether watching (living so close to the West End has been a real treat!), singing along at home or being in a show. I've done community theatre in the US and was in a Gilbert and Sullivan performing group at my university. So, one of the first things I looked into before moving to London was whether there were groups I could join here to meet people and indulge my love of theatre, and since I was coming to the birthplace of Gilbert and Sullivan, I thought it would be fun to find a G&S group. I was lucky to find the Grosvenor Light Opera Company and have performed in two G&S shows and a panto (another British cultural experience for me!) and found a wonderful community.
Is there a relationship between love of theater, marketing and pattern/strategy analysis? There has to be something that links them all together for you.
There's a concept in improve theatre called "yes, and," meaning that when on stage, you should always accept and build on whatever your fellow performers do because that's what makes interesting and exciting theatre. Those principles play out in business as well. I know that the better I listen and understand what others can bring to product or initiative, the better the end outcome is going to be.
Further, the same way that deeply understanding your character makes you a better actor, deeply understanding the customers you're serving make you a better marketer. Both areas require lots of curiosity.
Who has had the most influence with respect to your own career?  Why? 
A couple really special managers who've given me the opportunities to take on more than I otherwise thought I could. It's happened a few times during my career and each one is special and has benefited me enormously. I'm an experiential learner, so I most appreciate being in situations that force me to develop new skills. Moving to my role in the UK is definitely one of those experiences for me. Because those moves have had such a big impact on me, I try to ensure I give the people on my team stretching opportunities as well.
Who do you consider to be strong women leaders in the Fintech space?
At Capital One, I've had the benefit of working with a number of women, especially designers and product managers, who had lots of success in the tech world and then bravely transitioned into a financial services firm. They are able to see and communicate the important role finances play for people and the huge opportunity there is to make those experiences work better for people. Those visions are inspiring to those around them and really do move us forward towards making the industry better for consumers. We're lucky that the Fintech sector is attracting this sort of interest and talent.
What do you see as the 3 leading future trends for Fintech?
Bringing customer interests to the heart of Fintech products: Fintechs need to make sure that they are positioning themselves to solve customer problems. Those who establish themselves purely with a numbers-driven business case in mind may not see as much benefit as they might expect. With finances so critical in people's lives, the world being more and more interconnected, and regulators taking an increasing interest in customer outcomes, Fintechs will have to solve for customer needs to succeed in the medium to long run
Effortless experiences: Managing money will continue to get easier, whether it's being able to walk out of a store without waiting in a checkout queue and being automatically billed for your goods or having slicker ways to view all of your financial relationships in one place.
More interconnectedness among firms: Fintech startups will partner more with the more established financial services providers and PSD2 will make connections across financial institutions seamless.