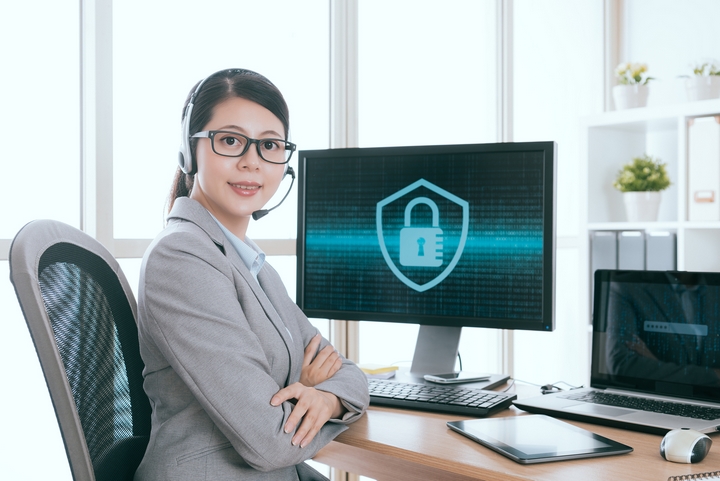 Cybersecurity is a field that is dominated by men, but there are a few amazing women who are acting as influencers and thought leaders. Here are 10 famous women in cybersecurity who are truly passionate about what they do.
1. Tarah Wheeler
Tarah Wheeler is an American technology and cybersecurity executive based in Washington. She is also the author of the book Women in Tech: Take Your Career To The Next Level With Practical Advice And Inspiring Stories.
She has been working for Symantec and Microsoft Game Studio, and she is currently working at Splunk. She often speaks about cybersecurity related issues such as cyberterrorism and cyberattacks, and she is known for her online activism.
2. Runa Sandvik
Runa Sandvik is a computer security expert from Norway, who now lives in Washington. She is currently the Senior Director of Information Security for the New York Times. She has also been a technical advisor for the Freedom of the Press Foundation.
She is known for interviewing Edward Snowden in 2014, and also for demonstrating, while working with her husband, how smart rifles with WiFi capabilities could be remotely hacked and forced to miss their targets.
3. Katie Moussouris
Katie Moussouris is an American computer security researcher, an entrepreneur, and a public speaker. She is known as a pioneer for vulnerability disclosure, and as an advocate for responsible security research.
She has worked for Symantec, Microsoft, and HackerOne. She is also the founder and CEO of Luta Security, a security start-up that specializes in helping businesses and governments protect themselves from digital attacks by working with hackers.
4. Window Snyder
Window Snyder is an American computer scientist and chief security officer who is based in San Francisco. She is the co-author of the book Threat Modeling, which is a straightforward manual on application security. Snyder contributed a lot to the innovations in modern IT services and software.
Through the years, she has been working for Microsoft, Mozilla Corporation, Apple, and Fastly, and she is currently working for Intel Corporation. She also shares her expertise about many things related to security on her Twitter account.
5. Parisa Tabriz
Parisa Tabriz is an American computer security expert based in California. She is working as a Director of Engineering for Google, and she has chosen titles such as Browser Boss and Security Princess for herself. She has more than 10 years of experience in her field.
She is dedicated to helping make the internet a safer place for everyone, and to solving problems that are at the intersection of information, technology, and humanity.
6. Eva Galperin
Eva Galperin is currently the Director of Cybersecurity at the Electronic Frontier Foundation, as well as a technical advisor for the Freedom of the Press Foundation. Her goal is to provide security and privacy to vulnerable people.
Her work is now focused on helping victims of stalkerwares, and raising awareness about those spyware applications that stalkers and abusive spouses sometimes install on the mobile devices of those they want to spy on.
7. Amanda Berlin
Amanda Berlin is an Information Security Architect based in Ohio, and she has more than 13 years of experience in this field. She is currently working at Blumira, and she is the CEO of Mental Health Hackers, an organization which focuses on educating information security professionals about the mental health risks they can face.
Her work has also been focused on infrastructure security, email management, hardware and software repair, and network troubleshooting and installation.
8. Tracy Z. Maleeff
Tracy Z. Maleef is a cyber analyst based in Philadelphia, Pennsylvania. She used to be a law firm librarian, but she is now working in the Security Operations Center for GSK.
She is an author, curating cybersecurity newsletters, as well as a frequent speaker on topics such as research, information security, professional networking, and more. Her goal is to be a guide up a mountain of information for her clients.
9. Lillian Ablon
Lillian Ablon is an information scientist based in Los Angeles. She is currently the Senior Security Technical Program Manager for Amazon as well as for Ring. She has worked as an information scientist for RAND, and as an analyst, developer and mathematician for the United States Department of Defense.
Her focus is on the human element in cybersecurity as well as on vulnerabilities, and the Internet of Things.
10. Heather Adkins
Heather Adkins is an Information Security Executive based in San Francisco. She has been working at Google for almost 20 years, and she is currently their Information Security & Privacy Director.
She is even a founding member of Google's security team, so she can confidently say that she has seen it all, and that she has what it takes to help her team respond to even the worst situations. She strongly believes in innovation, and in investing in the next generation.